If you're looking for a mouthwatering, easy-to-make dish that's perfect for a family dinner or entertaining guests, look no further than slow cooker honey garlic chicken. This dish combines tender chicken with a sweet and savory sauce that's sure to leave your taste buds tingling.
Slow Cooker Honey Garlic Chicken
As I sat down to write about my favorite slow cooker recipe, Slow Cooker Honey Garlic Chicken, I couldn't help but smile. This recipe has been a staple in my family for years, and every time I make it, I'm reminded of the first time I tried it.
It was a chilly autumn evening, and my sister had invited me over for dinner. As soon as I walked through the door, the sweet and savory aroma of honey garlic chicken filled the air, and my mouth began to water. I couldn't wait to try it.
When I took my first bite, I was blown away by the rich, tangy flavor. The chicken was perfectly tender and juicy, and the sauce was the perfect balance of sweet and savory. I begged my sister for the recipe, and she shared it with me, explaining that it was a slow cooker recipe that was incredibly easy to make.
Since then, Slow Cooker Honey Garlic Chicken has become one of my favorite go-to recipes. It's the perfect meal for busy weeknights, lazy weekends, or even for entertaining. It's a crowd-pleaser that always receives rave reviews.
Slow Cooker Honey Garlic Chicken Recipe
Healthy Slow Cooker Honey Garlic Chicken. Easy recipe with 8 simple ingredients! Juicy chicken thighs or breasts in a sticky honey garlic sauce.
| Prep Time | Cook Time | Total Time | Servings |
| --- | --- | --- | --- |
| 5 mins | 4 hrs | 4 hrs 30 mins | 4 servings |
Ingredients
For the Chicken:
1 1/2 pounds boneless, skinless chicken thighs or chicken breasts
1/3 cup low-sodium soy sauce
1/3 cup honey
2 tablespoons tomato paste
2 teaspoons chili paste (sambal oelek, sriracha, or hot sauce of choice)
4 cloves garlic, minced
1 tablespoon rice vinegar
2 tablespoons cornstarch
For Serving:
Prepared brown rice, quinoa, or cauliflower rice
Toasted sesame seeds
Chopped green onion
Instructions
Place the chicken in the bottom of a 6-quart or larger slow cooker.
In a medium mixing bowl or large measuring cup, whisk together the soy sauce, honey, tomato paste, chili paste, garlic, and rice vinegar. Pour the mixture over the chicken.
Cover and cook on LOW for 4 to 5 hours or HIGH for 2 to 3 hours, until the chicken reaches an internal temperature of 165 degrees F on an instant-read thermometer. If possible, flip the chicken over once halfway through to coat both sides.
Remove the chicken to a plate and let cool slightly. Whisk the cornstarch into the slow cooker cooking liquid. Cover and cook on HIGH for 15 minutes, until the sauce thickens slightly, stirring occasionally. If you'd like the sauce particularly thick, you can cook it for a full 30 minutes in the slow cooker or follow the stovetop method below.
For quicker sauce thickening, reduce the sauce on the stove: After whisking in the cornstarch, transfer the cooking liquid to a medium saucepan. Cook on the stovetop over medium heat, stirring often until the sauce thickens, 5 to 10 minutes. (If your slow cooker insert is stovetop safe, you can remove it from the slow cooker and place it directly on the burner, but do not do this unless you are POSITIVE your insert is stovetop safe or it may crack.)
With two forks or your fingers if the chicken is cool enough, shred the chicken and place it in the slow cooker. If you reduced the sauce on the stove, add it back to the slow cooker now. Stir to coat the chicken with the sauce.
Serve over rice, sprinkled with green onions and sesame seeds.
Cook Notes
To make this recipe gluten-free, use tamari or coconut aminos in place of the soy sauce.
For a spicier dish, increase the amount of chili paste or add a pinch of red pepper flakes.
Leftovers can be stored in an airtight container in the refrigerator for up to 4 days.
Nutrition Information
| Nutrition | Amount |
| --- | --- |
| Serving Size | 1 of 4, about 1 cup |
| Calories | 329kcal |
| Carbohydrates | 32g |
| Protein | 35g |
| Fat | 7g |
| Saturated Fat | 2g |
| Cholesterol | 162mg |
| Potassium | 572mg |
| Fiber | 1g |
| Sugar | 25g |
| Vitamin A | 163IU |
| Vitamin C | 3mg |
| Calcium | 27mg |
| Iron | 2mg |
Second Method
Slow Cooker Honey Garlic Chicken Recipe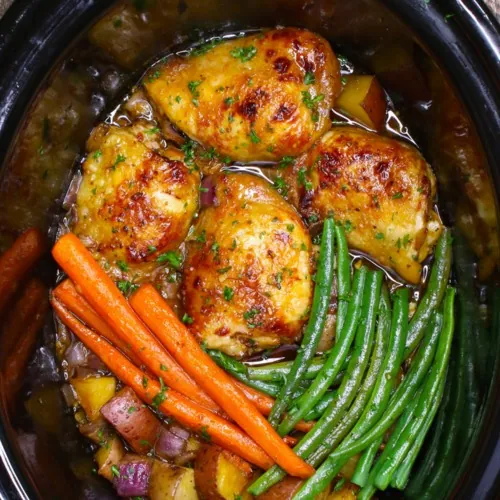 INGREDIENTS
HONEY GARLIC SAUCE
1/3 cup honey
1 tbsp garlic, minced
1/2 cup soy sauce, low sodium (see note)
1/4 cup ketchup
1 tsp dried oregano
CROCKPOT CHICKEN AND VEGETABLES
2 pounds chicken thighs, bone-in, skin-on
1 pound baby red potatoes
1 pound carrots, peeled
1 cup onions, chopped
1 pound green beans, trimmed
fresh parsley, chopped, for serving optional
salt and pepper to taste
CORNSTARCH SLURRY (OPTIONAL)
2 tsp cornstarch
3 tsp water
INSTRUCTIONS
In a small bowl, whisk together honey, garlic, soy sauce, oregano and ketchup.
Add the chicken thighs, potatoes, carrots and onions to a 4-6 quart slow cooker.
Pour the honey garlic sauce mixture evenly on top.
Cover the slow cooker and seal the lid. Cook on a LOW setting for 6-8 hours or on HIGH for 3-3 1/2 hours (see note).
About 20 minutes before serving, add the green beans to the slow cooker and optional cornstarch slurry to the sauce.
Re-seal the lid and cook for 15-20 minutes more until the green beans are tender and the sauce is starting to thicken.
Remove the chicken and vegetables to serving plates using a slotted spoon. Optional: Broil the chicken thighs for 2-3 minutes to brown the skin.
Drizzle sauce on top of chicken and vegetables. Garnish with optional minced parsley.
Notes
Use a quality soy sauce brand such as Kikkoman or San-J to get the best results. Low-grade soy sauce will affect the flavor of the dish.
Due to variations among crock pot brands, check doneness at the early end of the time range.
For a healthier option, pour the sauce into a fat separator before adding cornstarch. Separate out the fat and use only the remaining liquid for the thickening step.
Store leftovers in an airtight container in the fridge for up to 3 days. Reheat on the stovetop or in the microwave on medium power. Do not freeze.
Conclusion
Slow Cooker Honey Garlic Chicken is a delicious and easy-to-make recipe that is perfect for busy weeknights or entertaining guests. It's a family favorite that never fails to impress, and I'm always happy to share the recipe with anyone who asks. With its tender and juicy chicken and sweet and tangy sauce, it's a dish that will quickly become a go-to recipe in your own kitchen. So why not give it a try and see why it's such a beloved recipe? Your taste buds will thank you!