There's something about pizza that just hits the spot every time. The combination of crispy crust, savory sauce, and melted cheese is hard to resist. But what if you could enjoy all of that goodness in a quicker and easier way? That's where Naan Bread Pizza comes in. This recipe takes all of the classic pizza flavors and transforms them into a fast and effortless meal that can be made in just minutes.
My Love For Naan Bread Pizza
Growing up, Friday nights were always pizza nights at my house. My family would order from our favorite local pizzeria and we would eagerly wait for the delivery to arrive. As I got older, I started experimenting with making my own pizza at home. But sometimes, even that seemed like too much work.
That's when I discovered Naan Bread Pizza. It was the perfect solution for those lazy nights when I wanted something quick and easy, but still delicious. I loved how versatile the recipe was and how I could switch up the toppings depending on what I was in the mood for. Now, Naan Bread Pizza has become a staple in my recipe collection and I love sharing it with others who are looking for a tasty and effortless meal.
Simple Ingredients for a Tasty Naan Bread Pizza
To make the delicious and easy Naan Bread Pizza recipe, you'll need just a few simple ingredients. The first ingredient is, of course, naan bread. Naan is a type of Indian flatbread that has a soft and chewy texture, making it perfect for pizza crust. I first discovered naan bread during my travels to India and fell in love with its unique taste and texture. The next ingredient is pizza sauce, which you can either make from scratch or use a store-bought variety.
I love making my own pizza sauce with fresh tomatoes, garlic, and herbs, but when I'm in a rush, store-bought works just fine. The third ingredient is mozzarella cheese, which is a classic pizza cheese that melts beautifully and gives the pizza that signature gooey texture. And finally, you can add parmesan cheese for an extra cheesy kick, and fresh basil for a burst of flavor. With these simple ingredients, you can create a tasty and easy meal that everyone will love.
How to Make Naan Bread Pizza
Making Naan Bread Pizza is incredibly simple and requires only a few ingredients. Preheat your oven to 425F, then take four pieces of naan bread and spread a generous amount of pizza sauce over each one. Next, sprinkle shredded mozzarella cheese and parmesan cheese over the sauce. If you have fresh basil on hand, chop it up and sprinkle it over the cheese as well.
Place the naan bread pizzas on the oven rack and bake them for 8-10 minutes, or until the crust is golden brown and the cheese is melted and bubbly. Once they're done, take them out of the oven and slice them up. You can serve them with extra toppings like dried oregano and red pepper flakes for a little extra heat. The best part about this recipe is that it's so quick and easy, you can have a delicious pizza meal ready in no time!
Serving Suggestions
This Naan Bread Pizza recipe makes four individual pizzas, so it's perfect for serving as a quick and easy meal for a family of four or as an appetizer for a small gathering. You could also mix and match toppings to create a pizza bar for a larger group, where everyone can customize their own pizza.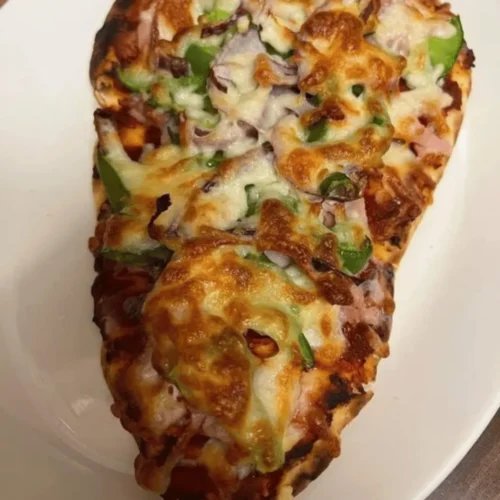 Naan Bread Pizza
This Naan Bread Pizza recipe takes all of the classic pizza flavors and transforms them into a fast and effortless meal that can be made in just minutes.
Ingredients
4

naan bread pieces

2

tbsp

fresh basil

chopped

1

cup

mozzarella cheese

shredded/sliced

¼

cup

parmesan cheese

optional

½

cup

pizza sauce
Instructions
Spread pizza sauce evenly over naan bread. Then sprinkle shredded mozzarella cheese and parmesan cheese if you have on hand.

Bake on the oven rack for 8-10 minutes – the crust and cheese should be golden brown.

Slice and serve with fresh basil, parmesan cheese, dried oregano, and red pepper flakes for heat if desired.
Notes
If you want to switch up the sauce, try using pesto or barbecue sauce instead of pizza sauce.
For toppings, you can add anything you like! Some popular options include pepperoni, sausage, bell peppers, onions, mushrooms, and olives.
If you want to make the recipe even quicker, you can use pre-shredded cheese and pre-made naan bread.
Nutrition Information
Here is a nutrition table for Naan Bread Pizza.
| Nutrition Facts | Amount Per Serving |
| --- | --- |
| Calories | 360 |
| Calories from Fat | 68 |
| Fat | 7.5g |
| Cholesterol | 6.1mg |
| Carbohydrates | 52.7g |
| Sugar | 5.2g |
| Protein | 20.5g |
Naan Bread Pizza is a simple and flavorful twist on traditional pizza. With just a few ingredients and a quick cooking time, it's perfect for busy weeknights or as a fun and easy appetizer for a gathering. This recipe is also versatile, allowing you to customize the toppings to your liking. Whether you're a pizza lover or just looking for a fast and delicious meal, Naan Bread Pizza is definitely worth trying. So, why not give it a go and see for yourself how delicious and effortless it can be!